As of VMWare ESX/ESXi/vSphere version 4.1 and above, you can now pass through USB devices to the guest virtual machine, as though it was directly connected to that machine. This is great for passing through USB HDD's, USB tape drives, printers, etc.
The following steps outline how to set up ESXi to pass through a USB device to a virtual machine.
This is a two stage process the first time you set this up. You need to add a USB controller to the virtual machine before you can add USB devices. After this initial setup, you can just add more USB devices as needed.
Start by loading up the vSphere client, and connect to your VMWare ESX/ESXi/vSphere server.
Find the virtual machine that you want to configure USB pass-through on, right click it, and select "Edit Settings".
You should now see the virtual machine properties window, as shown in the screenshot below.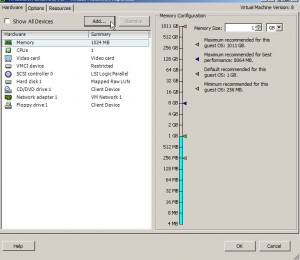 Click the "Add" button at the top.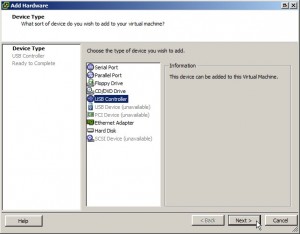 Select "USB Controller" and hit "Next".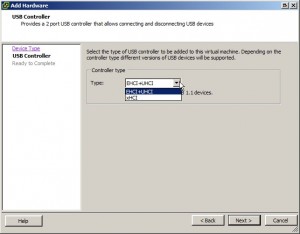 Select "EHCI+UHCI" if you only need USB 2.0 or 1.1 support, or if your operating system doesnt support the USB3 controller.



Select "xHCI" from the drop down list to allow USB 3.0, 2.0 and 1.1 support.
I will be using xHCI for this example.



Hit "Next" after selecting the controller type.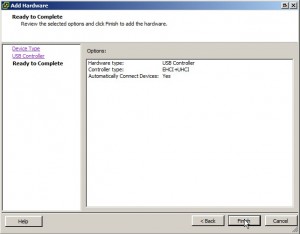 Verify the selection configuration, and hit "Finish".
Now you have a USB controller added to the virtual machine, you can go ahead and actually add the physical USB device to the virtual machine.
Make sure your USB device is plugged in now, before proceeding.
Press "Add" again on the virtual machine properties screen.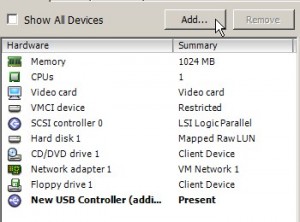 This time you will need to select ""USB Device".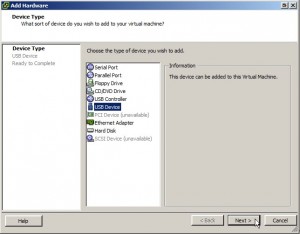 Press the "Next" button.
Select your USB device to add to the virtual machine.
In this example, I have a Samsung external USB HDD plugged in.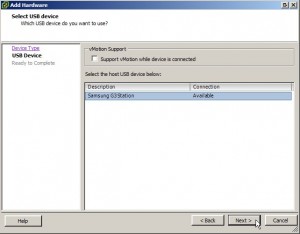 Hit the "Next" button.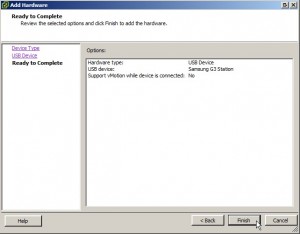 Confirm your configuration options, and hit the "Finish" button.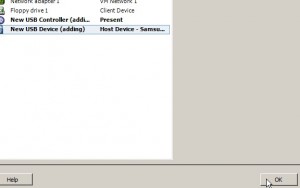 You will now have a USB controller, and a USB device added to the virtual machine.
Press the "OK" button to save, and apply the changes.
When you boot up the virtual machine, you should now have access to the USB device just like it had been plugged directly into that virtual machine.